The Content Planner is a tool we've built to make the HMRC website transition to GOV.UK easier and more efficient. It gives HMRC and the HMRC transition team in GDS a shared space to create, agree and comment on content plans for each of the topics we'll be transitioning to GOV.UK in the coming months.
Before the Content Planner
In the early stages of the project we were using spreadsheets - and lots of them. For a site as big and complicated as HMRC, capturing content plans in spreadsheets was time-consuming and unnecessarily challenging. It also increased the risk of human error because each time a content plan changed we would have to create another version of the spreadsheet and email it to all the people that should be aware of the change. We were drowning in spreadsheets, and multiple versions of them.
We tried to use Google Sheets in Google Docs (a cloud-based service we use extensively at GDS) to collaborate on the content plans but there were problems with this approach including limitations in Google Sheets, for example because they can't track changes to plans.
We decided we had to do something about it. Building on the work Clare Moss had begun in summer 2013, we analysed the needs of GDS content designers and HMRC staff working on content plans. Matt Ford began building an alpha of the Content planner while working on the Contacts app and we started using it within the HMRC transition team as a beta product in February.
What the Content Planner can do
The tool has become an integral part of our process for creating content plans based on user needs. We're using the Content Planner to:
create content plans for each HMRC topic we're transitioning to GOV.UK
create a 'content record' for each piece of content we'll be publishing
track the progress of each piece of content through each stage of the transition process
tag user needs in Maslow (GDS tool for capturing user needs) to content records and content plans
create task lists for content plans and content records
share comments (with email notification) on content plans and content records
present a high-level picture of where we are with content for each topic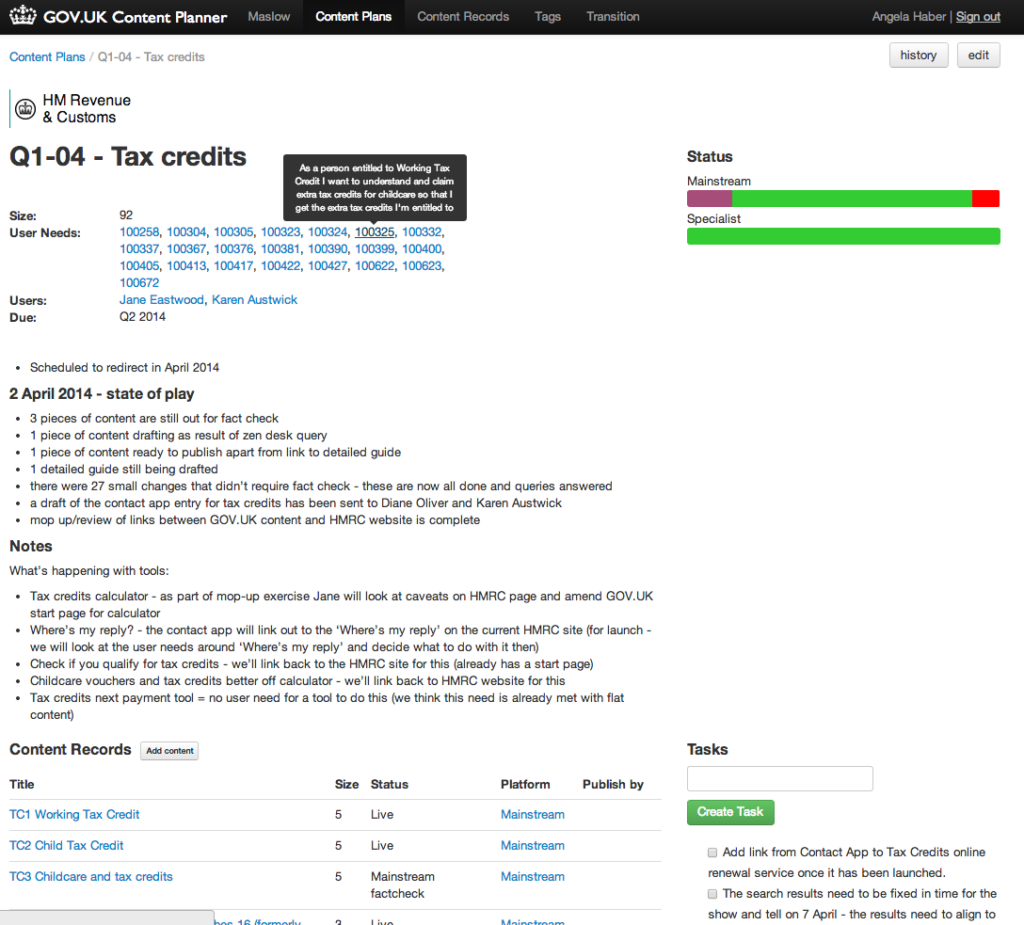 For users of the content planner in HMRC and GDS
Content plans need to be built on validated user needs. Before you can create a content plan in the Content Planner, you need to have drafted the user needs for your topic and created entries for each user need in Maslow. The Content Planner talks to Maslow and you will be able to select the user needs stored in Maslow when you're working on content plans.
The content planner should not be confused with the Transition Tool redirection software which gives departments and agencies the ability to manage their own redirects (to GOV.UK or the national archive)  after content creation rather than relying on GDS to make changes.
Angela Haber has created a guide to using the content planner which is available from GDS or from your HMRC category manager.
Sign up to email updates from this blog, or follow Stephen on Twitter